$100 is the best price I've seen so far for this tuner!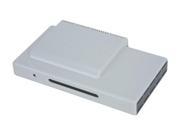 Newegg (affiliate) has my favorite tuner of all time, the SiliconDust HDHR dual QAM tuner for $99.99 and free shipping through March 28th.
SiliconDust HDHomeRun Network-based Dual Digital HDTV Tuner Ethernet Interface
$99.99 (124.99 less $25 with code CDYG45) with Free Shipping.  The code is good through 3/28 so don't wait.
Next best price is Amazon.com for $121.36 and free shipping.  Not a bad deal at all, but still not as good as NewEgg.
To follow deals just like this one, subscribe to GeekTonicDeals
Thanks to JarkHD for the tip!