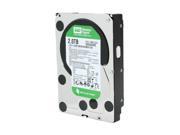 Newegg has a special on hard drives today through tomorrow (11/5/2010).  For all hard drives, enter promo code EMCZZYR25 at checkout and you'll get 10% off ($10 max off).
So one decent deal from this would be the Western Digital Caviar Green 2TB 3.5" SATA 3.0Gb/s Internal Hard Drive – the 64MB WD20EARS version which is priced at $89.99 and drops to $80.99 after the 10% off.
There are plenty of other hard drives to choose from so if you've been looking for more storage, check out the price with 10% off.