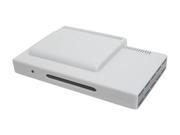 UPDATE:  EVILPENGUIN (FORUM MEMBER ON SAGETV FORUMS) POINTED OUT THAT YOU CAN GET THIS FOR EVEN LESS WITH A COUPON CODE $139.99 after $20 off Coupon Code EMCLNLP65 (Exp 2/9)
My TV favorite tuner of all time, the SiliconDust HDHR Dual QAM tuner is on sale at Newegg (affiliate) for $159.99 $139.99 with free shipping.  Next cheapest price is at Amazon for $166 and is sold for about $178 with shipping from SiliconDust direct.
SiliconDust HDHomeRun Network-based Dual Digital HDTV Tuner Ethernet Interface
$159.99 $139.99 with Free Shipping! [Coupon Code EMCLNLP65 (Exp 2/9)]
The HDHomeRun works with the following Software:
Windows Media Center:

MCE 2005 32-bit
MCE 2005 64-bit
Vista MCE 32-bit
Vista MCE 64-bit

SageTV - HTPC software for Windows XP, Windows Vista, Windows Home Server, Mac & Linux
SnapStream BeyondTV - DVR for Windows
Elgato EyeTV - DVR for Mac
MythTV - DVR for Linux
MediaPortal - DVR for Windows
GB-PVR - DVR for Windows
VLC - Multi-platform media viewer
TSReader - MPEG-2 transport stream analysis
To check which channels are available to you through clear QAM, check out
SiliconDusts Clear QAM database
by inputing your zipcode and selecting your cable provider.
If you want to research the HDHR a little more before buying
check out my review of the device from last year