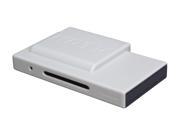 If you missed the Woot deal on this tuner (it sold for $90 delivered), there is still a chance to get a good price.  RadioShack has the SiliconDust HDHR Dual QAM Tuner for $99.99 shipped.
If you want to go a bit cheaper than that you can get a "recertified version the SiliconDust HDHomeRun Dual QAM Tuner for $89.99 plus 6.98 shipping
Thanks to Dave for the tip!