I've always been a proponent of extenders for getting media to your TV.  But for a full-blown HTPC the bigger and sometimes noisier desktop works pretty good.  That isn't always the case though.  Sometimes you want a smallish HTPC server that can still handle TV recording. 
At the UsingWindowsHomeServer blog, Timothy chronicles the build and results of his new mini-HTPC that fits nicely under a cabinet or desk.
From the article Timothy describes his reasons for going this route:
"The issue that I have is that this PC is not very energy efficient and the garage gets to over 100° during the summer months when I am at work. In addition, if I want to watch TV in the garage (assuming a tuner is free) and I am recording then my performance drops.

Build a dedicated PC to record those wonderful HD streams that SiliconDust provides me of course! "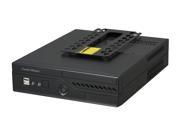 For a case he used the COOLER MASTER Elite 100 which he bought for $70 at Fry's, but I also found online at Newegg for the same price after shipping.
He added an Intel Celeron E3300 2.5GHz Dual-Core Processor $52 at Newegg, a Zotac Zotac Board for $80, and CORSAIR 2GB DDR2 SDRAM Memory for $65 at Newegg.  The hard drive he already had and added an under cabinet LCD mount he found on eBay.
Most importantly the SiliconDust HDHR Tuners (Currently $145 at Amazon) allowed TV Tuning over the network so he didn't have to have the tuners inside the tiny case.
An interesting read and a unique HTPC server especially since he's using the Windows Home Server with it.  Check out the entire build log with photos and more explanation at UsingWindowsHomeServer