A few weeks ago I picked up a high-performance 1.5 Terabyte Hard Drive to use as one of my two Home Theater PC (HTPC) recording drives.  In the process I needed to remove one of the six drives in my HTPC.  No problem right?  Except for the fact this was a perfectly good 1TB Western Digital Green Drive.  One that I needed to find a home for.  So I went on the hunt for a good hard drive enclosure to house the newly orphaned drive.  Enter the Thermaltake BackX SATA Enclosure.
My search for a good, inexpensive SATA Hard Drive enclosure led me to the Thermaltake BlacX External Hard Drive SATA Enclosure Docking Station.  Read on for a full review:
This enclosure gives you a simple way to take your SATA I or SATA II Hard Drive, and plug it into the enclosure like toast in a toaster (no it's not that hot), plug the enclosure into the wall AC and connect it to your computer – or in my case to your PogoPlug via USB 2.0.  And your hard drive is ready to use!  Note: hard drive must be formatted before plugging into enclosure to work.
Enclosure Specs:
Compatible Hard Drive Size: 2.5" & 3.5" up to 2 TB
Includes AC Adapter (this adapter is of the semi-fat size so be warned)
Hard Drive Interface: SATA I or SATA II.  Does not work with your old, non-SATA drives
External Interface: USB 2.0
Transfer Rate: Up to 480 Mbps (Max) – this is of course what you get with USB 2.0, but plenty of speed for most video, music and photo files for your HTPC.  Not ideal for recording for say a HTPC DVR however.
OS Compatible Windows 7/ Windows Vista / XP / 2003 / 2000 / NT / 98 / 95 Mac 10.3 and later
Hot Swap Capable
For the moment I have two of these.  One will be used for some video files and the other will be a backup for music and photos.  All are connected to my PogoPlug and therefore all files are accessible by me over my home HTPC network as well as mobile via the MyPogoPlug website page and my iPhone.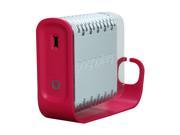 If you don't need the speed of ESATA, this enclosure is a great option.  It's extremely easy to switch out drives – you just pop them in and eject the drive to remove it – it really does work like an old game machine cartridge (this reference is for those of you who actually remember the Atari and Colecovision game machines.)  Another bonus is the ability to handle 2.5" and 3.5" drives which adds to its versatility.  On the back of the enclosure you'll find the USB port, AC port and a power switch.
The enclosure shipped with a power cord, USB Cable and instructions.  Although honestly the instructions weren't really needed in my case – a good reference if you run into problems, but the setup was extremely easy.
Inserting a drive involves a slight amount of force until it "clicks" into place.  The drive is held tight in the enclosure which is a good thing.  Removing the drive from the enclosure requires you to push firmly on the "eject" button on the enclosure – this requires a bit of force as well but it's easy to do.  I tested the enclosure with several Western Digital drives and a Seagate drive and each of them worked perfectly so no obvious compatibility issues.  After a few days of use the hard drives kept relatively cool inside the enclosure – of course much of the hard drive is showing outside of the enclosure so there's more air flow there than inside a computer in most cases.
The two enclosures are living in my gadget laboratory, but working hard behind the scenes thanks to my trusty PogoPlug.  You'll note the blue-LED lighting that emanates from the enclosure when it's powered on.
Pros:
Inexpensive
Flexible – handles 2.5", 3.5" SATA I & II Hard Drives
Easy to switch drives
Easy to use
Cons:
No ESATA
Short power cord could be issue for some
I recommend this enclosure for most uses as long as the 480Mbps maximum speed is fast enough for you.  If not look for an ESATA drive enclosure, but otherwise this is a great choice for using that spare hard drive on your system.  I picked up two of these during a NewEgg sale for $22.99 each, but the NewEgg price is back up to 32.99 (free shipping)  – still a pretty good price.  Amazon has the same enclosure for $38.84 (both affiliates)