Today I have two deals for you.
First up is the Antec Twelve Hundred Computer Case. This is a step up from the Antec 900 case I'm now using for my HTPC server and the 1200 would make a very nice HTPC server case as well. Lots of room for expansion, plenty of airflow and a nice look.
Newegg.com is running a special on the Antec Twelve Hundred Black Steel ATX Full Tower Computer Case for $140 after $40 instant discount and 20% off coupon code
SAVE20CASE
(expires 10/15/08). All with free shipping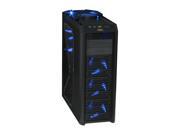 Antec Twelve Hundred Black Computer Case With Side Panel Window
Next up we have two Vista Media Center Extenders on sale at Amazon:
Lots of deals have been running for the
Vista Media Center's Linksys DMA2100 Extender
this past month. Amazon.com has the
Linksys DMA2100 extender for $99.99
($119.99 less $20 instant rebate that shows once you begin check-out).
The
Linksys DMA2200 extender
which is like the above extender but also
has a DVD drive
(also for Vista Media Center) is on sale at Amazon as well. Get the
Linksys DMA2200 extender for $129.99
($149.99 less $20 instant rebate that shows once you begin check-out)