The ever popular SiliconDust HDHomeRun dual network tuner received a software & firmware update to Gold this week with Release 20100828.  The update includes several improvements all around including those for SageTV, GBPVR, MediaPortal and even XBMC!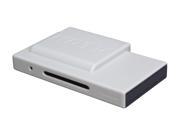 This tuner is one of my all-time favorites – especially useful if you have any QAM channels in the clear.  Read my original and somewhat dated review on the HDHomeRun for more.
The complete Changelog from SiliconDust:
20100828:
Windows: HDHomeRun Setup / drivers:

Automatically generate channel Playlist for Windows Media Player.
Add support for remapping DVB-C channels to DVB-T for use with Windows Media Center.
Add support for user-specified symbol rates for DVBC.
Add support for application For The Record.
Generate XBMC files if XBMC is selected as the application, even if XBMC is not detected.
Make "Remove channels not found in scan" option persistent.
Fix SageTV SCN file generation for clean v7 installs.
Fix problem where tuner driver was not de-registered when tuner disabled and removed.
Update postcode validation rules.
Updated beta release of the WMC Sync utility.
Update to firmware 20100828.

Windows: HDHomeRun QuickTV / Windows Media Player:

Add support for MPEG1 video in QuickTV/Windows Media Player.
Disable codec-missing messages incorrectly triggered when rapidly changing channels.

Windows: HDHomeRun Config GUI:

Add support for TECH SNR numbers with higher precision than 1dB.
Improvements to channel selection.
Detect channelmap list from device.
Fix problem where HDHomeRun Config GUI could cause a tuner to lose program selection if the channel was tuned by a different application while HDHomeRun Config GUI was running.
Fix application crash if HDHR was unplugged while user has program list showing for selection.

Mac:

Update to firmware 20100828.

libhdhomerun:

Fix missing fclose in the hdhomerun_config upgrade code.
Fix random lockkey generation.
Fix const warnings.